Is Your Digestive System Out of Balance? Pooler Chiropractic Care Can Help

by Dr. Richard Huntoon
Read Is Your Digestive System Out of Balance? Pooler Chiropractic Care Can Help by Dr. Richard Huntoon to learn more about Advanced Alternative Medicine Center and our Chiropractic office in Pooler, GA.

We look forward to serving you! Call - 845-561-2225.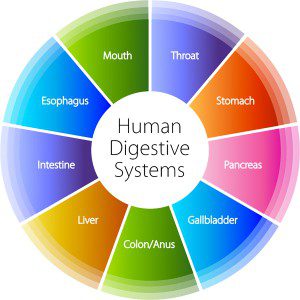 Digestion is the core of your strength and well-being. The advantages of good digestion can make the difference between attaining your goals with ease, feeling strong and healthy, or being plagued with a general malaise and discomfort. In today's world of processed meals, high stress, antibiotics, hectic schedules, chemicals in our food supply, GMO foods, and the over-prescribing of medications, it's no wonder that many people suffer from poor digestion. Luckily, Pooler chiropractic care is available at Advanced Alternative Medicine Center for those in the New York area.
Some of the symptoms of a poorly functioning digestive system are headaches, migraines, constipation, excess gas, loose bowel movements, bloating, acne, skin rashes, irritability, stomach pain, and lower back pain. All of this leads to low energy and sometimes depression.
Traditional doctors tend to offer two options – medication and surgery. Medication can be toxic or have side effects, and it often only masks the problem or treats the symptoms instead of the underlying issue. Surgery for digestive issues tends towards the removal or modification of bodily organs like the gallbladder or stomach. Before permanently altering the body you were born with, why not consult with your Pooler chiropractor – or a trusted local chiropractor near you – to see if less drastic measures will help?
Dr. Richard A. Huntoon is a holistic chiropractor in Pooler, NY, and he has a better solution. He practices the Neuro-Emotional Technique (NET), which addresses the emotional and stress related causes of digestive disorders. This methodology can be extremely effective in treating excessive food cravings, binge eating, and other eating disorders that can have a negative impact on your digestive tract. He also recommends speaking to an acupuncturist, homeopath, or naturopath in addition to your Pooler chiropractic treatments.
At Advanced Alternative Medicine Center – Dr. Richard Huntoon can help educate you how to create a personal plan to create a life of health and unstoppable energy. He's also put together a few tips that you can use to improve your digestion right away!
Digestive Care Tips
Choose raw, natural foods over processed foods
Eat fresh foods, not foods that are canned, boxed, or frozen
Hydration is key for an optimally functioning body
Eat a variety of different fruits and vegetables
Eat local and organic foods whenever possible
Farmer's markets are your friends!
Eat a high-fiber diet. …
Limit foods that are high in fat
Choose lean meats.
Skip bad habits like smoking and overindulging in alcohol or caffeine
Use digestive enzymes and fermented foods
Use herbs for digestive support.
Eat when you're hungry. Don't overstuff, just because it tastes good or you feel like you should "clean your plate."
August is Stomach Health Month! Those with unbalanced digestive systems can take advantage of a FREE stomach health evaluation. Come in if you're experiencing heartburn, acid reflux, indigestion or hiatal hernia, among other concerns. Pooler chiropractor Dr. Richard A Huntoon is offering this $125.00 value at no cost during the month of August.


For Your Health,

Dr. Richard Huntoon


Leave a Reply